Mon., Aug. 1, 2011 2:55 PM PDT by
Ted Casablanca and Natalie Wheeler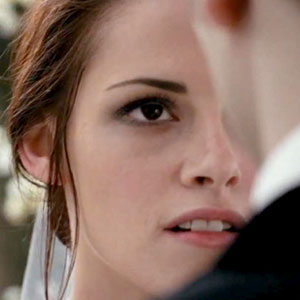 Twitter
'Member when all those delicious pics
were leaked
from
Breaking Dawn
?
We salivated, but Summit was way pissed off,
so
P.O'd that it went on a worldwide search for the culprit. James Bond-style.
And they want every Twi-hater
and
Twi-hard to know that this oh-so evildoer has been identified, according to Summit, and they've taken legal action as a result. Got that, peeps? Legal. Action.
So who is this person who supposedly leaked Summit's precious goods?
An Argentinean, duh. Totally the first place we would have looked.(Wha, you don't believe us?)
Apparently,
Daiana Santia
and her band of
Twi
-thieves managed to get hold of some photos, unfinished images and video of the two-part
Breaking Dawn
films—so claims Summit in a blistering press release.
But although she might've been a Robin Hood to much of the
Twilight
community, Summit still maintains that she pilfered those pics.
"While we very much appreciate the legions of committed fans of the franchise and encourage them to create community online, we cannot ignore that property was stolen," said
David Friedman
, VP of Summit, in a statement.
Understandable, but we're curious what kind of punishment this alleged band of thieves is gettin'? Off with their heads! Or hopefully just their
Twilight
T-shirts? Seriously, we hear Summit is
not
going to let this one go, so be forewarned. They are currently searching for more hackers as we chat.
Indeed, to all the Twi-hards, the movie studio hopes to leave them with a lesson in these enticing internet times.
"Please, though the temptation is high, don't view or pass on these images," said Summit in a statement. "Wait for the film in its beautiful, finished entirety to thrill you."
How touching. Now where are those photos...
Read more:
http://www.eonline.com/news/the_awful_truth/summit_gives_judicial_finger_twilight/255572#ixzz1Trvf2OU7