Hey guys, I came across this great article this morning and had to share it with you! Enjoy!! =)
Help Plan Edward Cullen's Breaking Dawn Bachelor Party!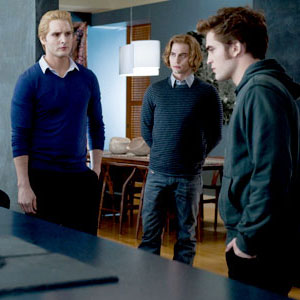 Kimberley French / Summit Entertainment
We are just as excited for
Breaking Dawn: Part 1
as you are, Twi-hards! But there's been a major oversight. The whole Edward and Bella wedding is fine and dandy, but we think we should be focusing our attention on the
really
fun part of getting married.
Duh! The bachelor and bachelorette parties!
And in anticipation for the first part of the final installment, we thought it would be fun to plan these nights of debauchery for Edward and Bella.
First up: Eddie's bachelor bash. You don't actually expect us to believe that his last night as a free vamp was spent hunting (as it says in the book), do you? Of course not, there was bound to been some throwing back of blood shots (spiked, of course) at the very least.
Well, that doesn't exactly sound like a night of hunting, does it?
Now, before the whole "Edward's a gentleman, he'd never do that to Bella" crap starts, remember, this is all in the name of fun. So what king of fun should they engage in? We have a few ideas:
The Hangover, Cullen Style:
Emmett, Jasper and Carlisle take Edward to Vegas for a reckless night on the town. Things get crazy when Emmett spikes the blood Jell-O shots. They wake up the next morning and (
gasp!
) Edward is missing. Cue ensuing drama.
Strip Club:
Can you blame Edward? He's only human...well, not really. A lap dance is like a bachelor party rite of passage. And you can bet the ladies would be fans of the Cullens and their...um...stone-like skin.
Sporting Event:
The Cullens are pretty into baseball. So it's not out of the question that they would take Edward to a ball game where they can pretend to drink beer and chow down on hot dogs.
Hunting 2.0:
OK, so maybe they really will go hunting. But it shouldn't be their typical routine. Our idea: strip hunting. The last person to catch a deer has to remove an article of clothing. You know Jacob would be
all
over this (if he's invited, of course)—he never backs down to a shirtless hunting adventure.
It's up to you,
A.T.
readers!
Awful's Bachelor Party Poll:
Results may be delayed up to 120 seconds...
Read more:
http://www.eonline.com/uberblog/the_awful_truth/b252062_help_plan_edward_cullens_breaking_dawn.html#ixzz1S4ndfpos